Barbie har jag växt upp med, vi är nästan jämngamla, och det var jättekul att prova på att sy pärlklänningar till min favoritdocka.
Det har blivit både efter befintliga mönster och egna kompositioner.
Alla modeller på bilderna är till salu, en del är dock mina egna dockor så att klänningen finns att beställa med en annan docka, se bild nedan. Jag gör klänningar i månadsstenarnas färger, men du kan även beställa i valfri färg, se färgkartan. En docka med kort klänning kostar 495:- och en lång klänning 595:-. Du kan även skicka din egen docka så syr jag klänningen, då kostar en kort 425:- och en lång 525:-. Alla priser är utan frakt. Beställ på:


I have been growing up with Barbie, we are the same age, and it´s been fun to design dresses for my favourite doll.
All dresses are for sale, some of the dolls are my own private ones but the dresses can be ordered with other dolls, look further down the page. I make dresses in the colours of the birthstones, and you can chose some other colour from the colourchart. The price of a short dress is 495 Skr and a long one is 595 Skr. If you want to use one of your own dolls the price is 425 Skr and 525 Skr. Shipping not included. Order at:

Dockor med klänningar i månadsstenarnas färger / Dolls with dresses in the colour of the birthstones.
Andra modeller / Other modells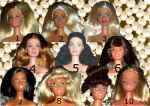 Olika dockor / dolls to order

Färgkarta / colourchart